Wisconsin spring walleye fishing season is widely-renowned for being one of the best locations and times to catch these fierce-fighting, good-eating fish. April and early May are also among the best opportunities to catch trophy walleye on Green Bay. Although fishing in Green Bay is good year-round, spring walleye fishing is great because the size of the fish tends to be bigger. Green Bay boasts one of the most plentiful walleye fisheries in the country, with walleye reaching 32+ inches and weighing around 12-14 pounds. Full of eggs, these walleyes hold a lot of weight, making them highly prized for pictures and replicas for the wall. Trophy walleye can be referred to as gravel lizards, rock donkeys and marble eyes. Whatever you call them, anglers from all over the country are mesmerized by their size and the beauty Green Bay offers. 
Catching and releasing Green Bay trophy walleyes should be taken seriously. Fish this size should be released to ensure they are allowed to spawn for future recruitment. This will guarantee fishing for walleye in the spring will remain a viable pastime for years to come. 
Where Is The Best Spring Walleye Fishing In Green Bay?
As soon as the ice goes out fisherman gravitates towards tributaries where walleyes gather looking for warmer temperatures, thus beginning the spawning cycle. There are two different areas where they spawn: marsh or river spawning walleye and rock spawning walleye. Green Bay's lower bay, Fox river and the west shore provide multiple rivers and tributaries, like Oconto, Peshtigo, Menominee rivers, with river spawning walleye.
Green Bay's east shore has rocky shorelines especially around the Sturgeon Bay, Wisconsin area providing great habitat for rock spawning walleye. Trophy walleye fishermen typically start on the west shore of Green Bay and workaround to the east shore depending on water temperatures.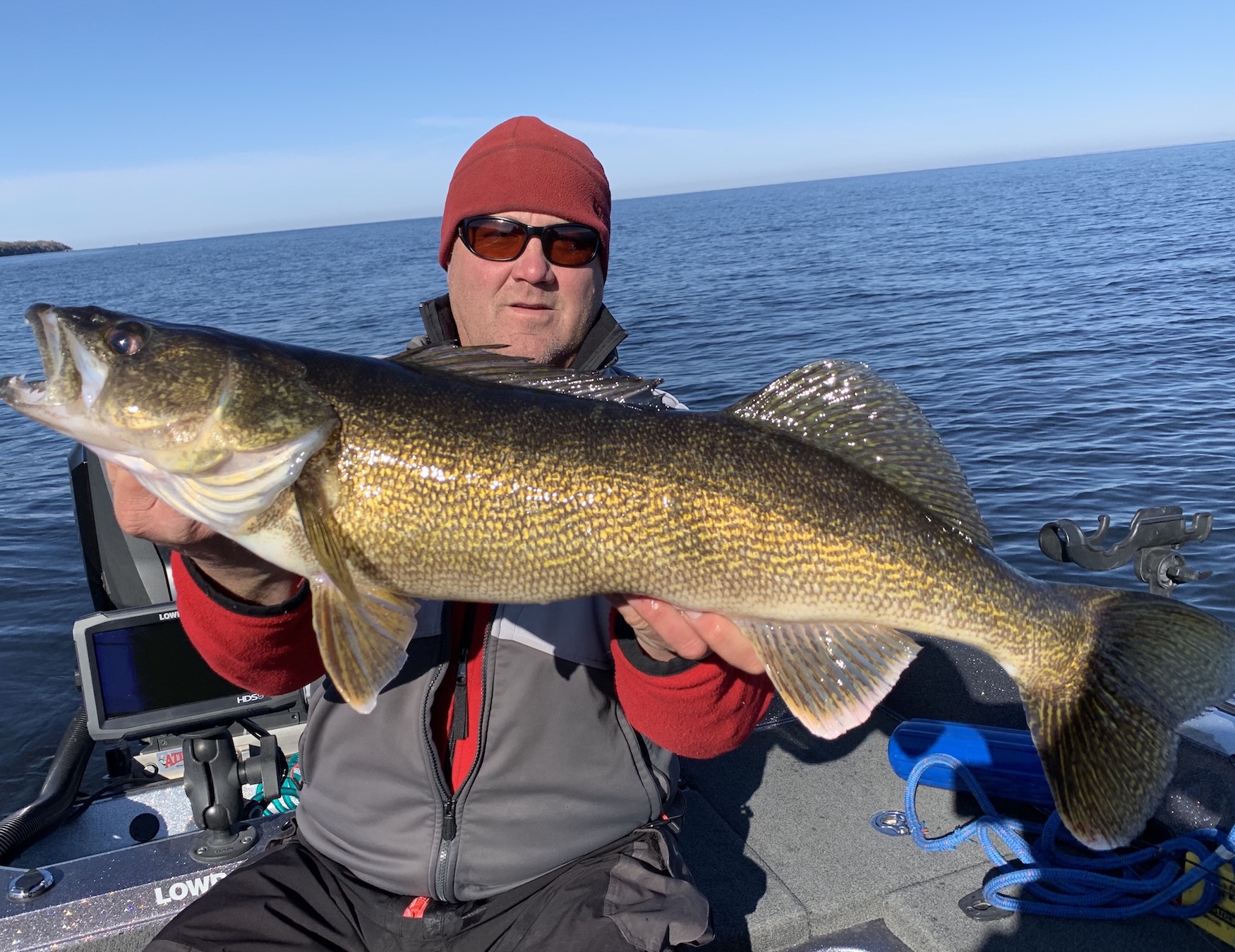 What Equipment Works The Best For Spring Walleye Fishing?
Fishing equipment plays a huge role in catching trophy walleye on Green Bay. Most boats are rigged with electronics and have side imaging to allow anglers to see up to 100 feet on each side of the boat where schools of walleye tend to be. By locating these schools, fishermen and women can illuminate dead water areas concentrating on where the fish are. Custom rods, like the Mags 7' 3" medium-light rod, paired with a Daiwa Ballistic 3000 D-C reel is a quality high-end combo capable of landing trophy Green Bay walleye.
A good fishing line is Suffix 832 Super Braid because it allows you to feel the lightest strikes and can be paired with a suffix 12-pound fluorocarbon leader. A few spring walleye lures that work best on Green Bay are Rapala Rippin Raps, husky jerks and Vmc boxer jig heads with Keitech paddle tails. Don't forget about hair jigs in black and purple, weighing anywhere from 1/4 – 3/8 oz.
What Are The Best Methods Of Fishing For Walleye In The Spring?
Anglers use a variety of techniques to catch trophy walleye, like snap jigging, slow-rolling plastics and trolling. Snap jigging as a fun way to catch trophy walleyes. Casting a #6 Rapala rippin' rap allows the bait to sink to the bottom one to two feet with a hopping and dipping action. When the water temperatures are really cold and fish are somewhat lethargic, slow-rolling plastics along the bottom is a great technique for catching trophy walleyes. VMC 3/8 ounce jig heads paired with a Keitech paddle tail can be a deadly combination, making subtle pops and getting inactive walleye to bite.
Another technique that should not be overlooked is trolling Rapala husky jerks and Smithwick Rattlin' Rogues behind the offshore planer board. This covers a lot of water quickly, allowing you to find pods of walleye wherever they may be. Also, trolling along rocky shorelines in about 12-18 feet where trophy walleyes like to cruise during sunrise and sunset periods is never a bad idea.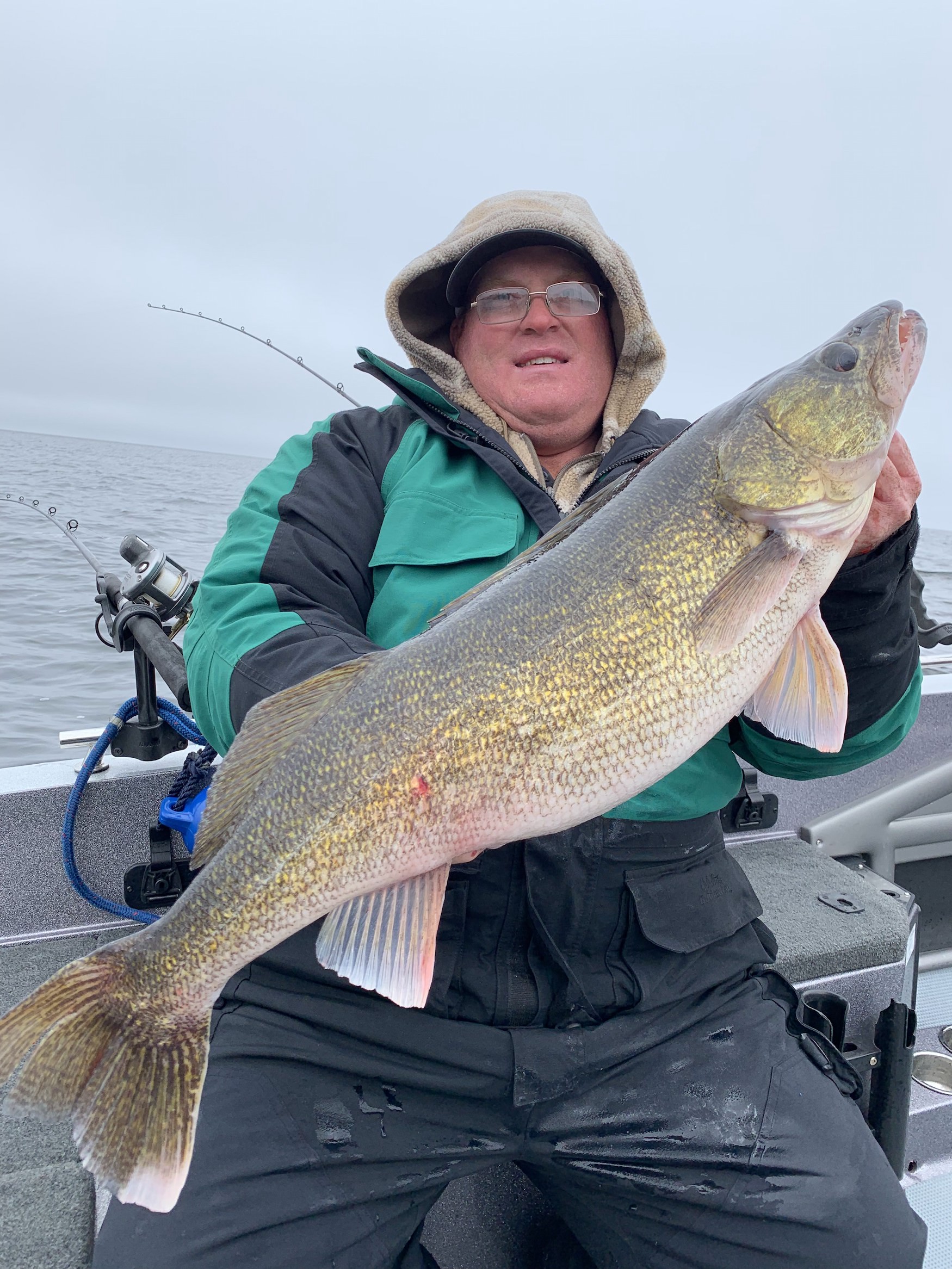 What Kind Of Weather Can Be Expected For Spring Walleye Fishing?
There's no doubt weather plays a key role in catching trophy walleye on Green Bay. In early April, when the air starts warming and sunny days bring river temperatures up, walleye start gravitating towards river mouths to find 40-45 degree water for spawning.
When spring walleye fishing on the open water in Green Bay, the wind is a huge factor. You want one to three-foot chop. This makes the walleye more active and encourages them to bite. Flat calm days will produce some fish but make fishing tougher with clear water conditions.