Door County Smallmouth Bass Fishing
Professional anglers and fishing enthusiasts agree that there is nothing quite like hooking into a smallmouth bass. Although you can find these fierce fighters throughout the U.S. and parts of the world, Sturgeon Bay, Wisconsin is one of the hottest places to find them. They are big and there are many Door County smallmouth bass and their presence has attracted fishermen and women from everywhere. 
Get started on your adventure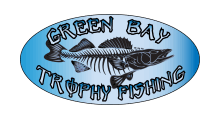 An experienced Door County fishing guide can put you on trophy smallmouth bass and keep you on them, no matter where they go. Fishing guide services know the lay of the land, where the fish are generally and how to read the current conditions. Smallmouth bass fishing with a guide takes the time you spend looking for fish and turns it into the time you spend catching fish.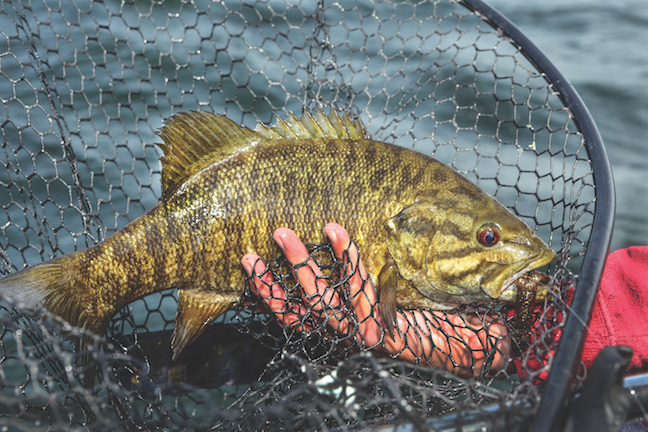 What is the smallmouth bass?
Smallmouth bass is a freshwater member of the sunfish family popular with anglers and professional game fishermen and women, most smallmouths caught are between the lengths of 12 (the minimum to keep) to 23 inches. The largest recorded length for smallmouth is 27.2 inches. The heaviest weight was 11 lbs. 15 oz. caught in 1955  between Kentucky and Tennessee. Males are usually smaller than females. Regardless of the fish's gender, the smallmouth bass is known to fight above its weight when on the line.
A smallmouth bass is generally brown in neutral light and appears light brown to green in heavy sunlight to black in dim light. Dark brown vertical stripes or elongated spots from head to tail. The lower jaw juts out considerably more than the upper jaw. 
Adults live in shallow, rocky parts of Sturgeon Bay or clear, gravel areas and pools of the Menomonie, Oconto and Peshtigo rivers. You can also find them in reservoirs fed by streams. They range all over the U.S. from New York down to the deep south to the Great Lakes to California. They have also been introduced to international waters in the UK, Japan, Russia and Africa.
How to catch a smallmouth bass?
There are a lot of ways to catch smallmouth bass. Drifting with live bait using little suckers or night crawlers. Casting swim baits like keitech paddle tails and Kalins grub tails. Casting jerk baits like Mega Bass ten plus one's and Rapala shadow rap's. Don't let the name fool you, smallmouths will attack nearly anything when hungry. What works best depends on the time of year, the body of water and whether you are in a boat or onshore. 
In the fall, perhaps the best way to catch big Green Bay smallmouth bass on Washington Island is by drifting and using four to five inch red tail chubs as bait. Your smallmouth bass fishing guide will know which methods have been working and instruct you on how to perfect your fishing technique.
What do smallmouth bass eat?
Smallmouth bass are opportunists when it comes to their food choices, meaning they will eat anything they can catch around their habitat. As youngsters, they eat plankton and small insects. 
As they mature, they graduate to gobies, crayfish, shad, worms, minnows and other smaller fish, including another smallmouth bass. They occasional go for prey on the surface, like largemouth bass.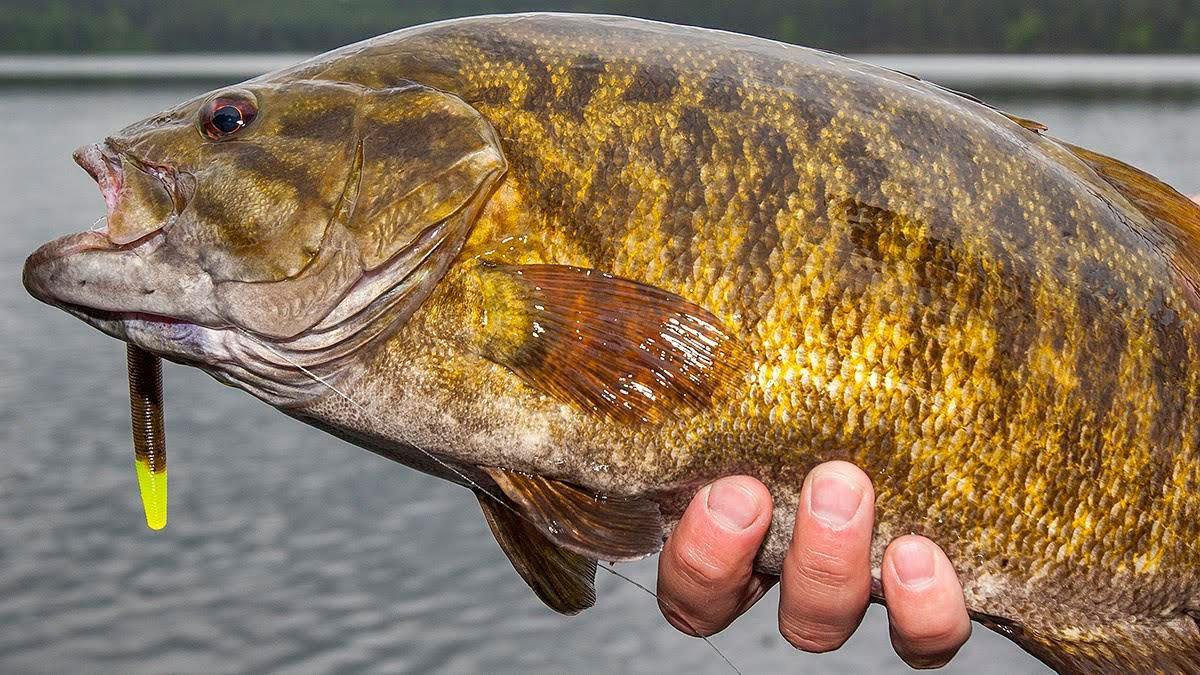 What lures work best for smallmouth bass?
The answer to this question depends on who you ask. Some people swear by swim baits, spinnerbaits and crankbaits. Others like jigs that mimic the look of a crayfish or a fluke that has the appearance of a small, injured fish. Your Green Bay smallmouth bass fishing guide will be able to tell you what's working best.
Yet, others only use living bait to catch Wisconsin smallmouth bass. While artificial baits are most often used, you can catch a lot of Sturgeon Bay smallmouth bass with nightcrawlers, minnows, red tailed chubs, suckers. After all it, they are exactly what Green Bay smallmouth bass are looking for.  
When do smallmouth bass spawn? 
Spawning occurs in early to mid-spring when the waters get between about 60 to 65 degrees. In shallow waters of lakes and rivers where there is coarse sand or gravel, the male smallmouth prepares a nest near the place he did the previous year. 
After the spawning ritual is finished, it is the male smallmouth that stays behind to guard the nest, with the eggs hatching four to seven days later. The male generally will stay around until the hatchlings swim away.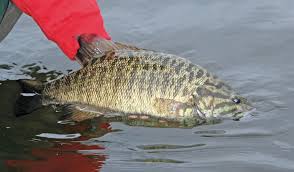 Where is the best place to catch Door County Smallmouth Bass? 
Green Bay Trophy Fishing catches a lot of Door County smallmouth bass in the areas of Sturgeon Bay, Washington Island, Sister Bay, Fish Creek, Rowley's Bay, Riley's Bay, Little Sturgeon Bay, Sand Bay Sturgeon Bay Fishing Channel and Egg Harbor.  
What lures work best for smallmouth bass?
While smallmouths bite all year round, the best time to catch them is in the early spring to mid-May, just before they spawn. This is because the warming water activates them out of their with lethargic winter rest and they start moving up shallower to feed on smaller fish near primary brake lines.
Not only do you tend to catch more fish in the Spring, but also the sizes are also usually bigger. In Door County, smallmouth bass bite well into the fall with the large females trying to gorge before winter.  A good smallmouth bass fishing guide will know to find them at any point during the season.
Why Green Bay Trophy Fishing?
Green Bay Trophy Fishing guides full-time and knows where to find the hottest bites for Sturgeon Bay smallmouth bass. By taking in a variety of factors, such as wind, weather, water temperature and seasonal factors. We have all the latest technology like a new, state-of-the-art 621 Ranger fishing boat, new electronics like fish finders and more. We take the role of guide very seriously and love teaching new techniques, concepts and best practices. We love smallmouth bass fishing just as much as our customers do and go the extra mile to be sure they are having as much fun fishing for smallmouth bass in Door County as we do.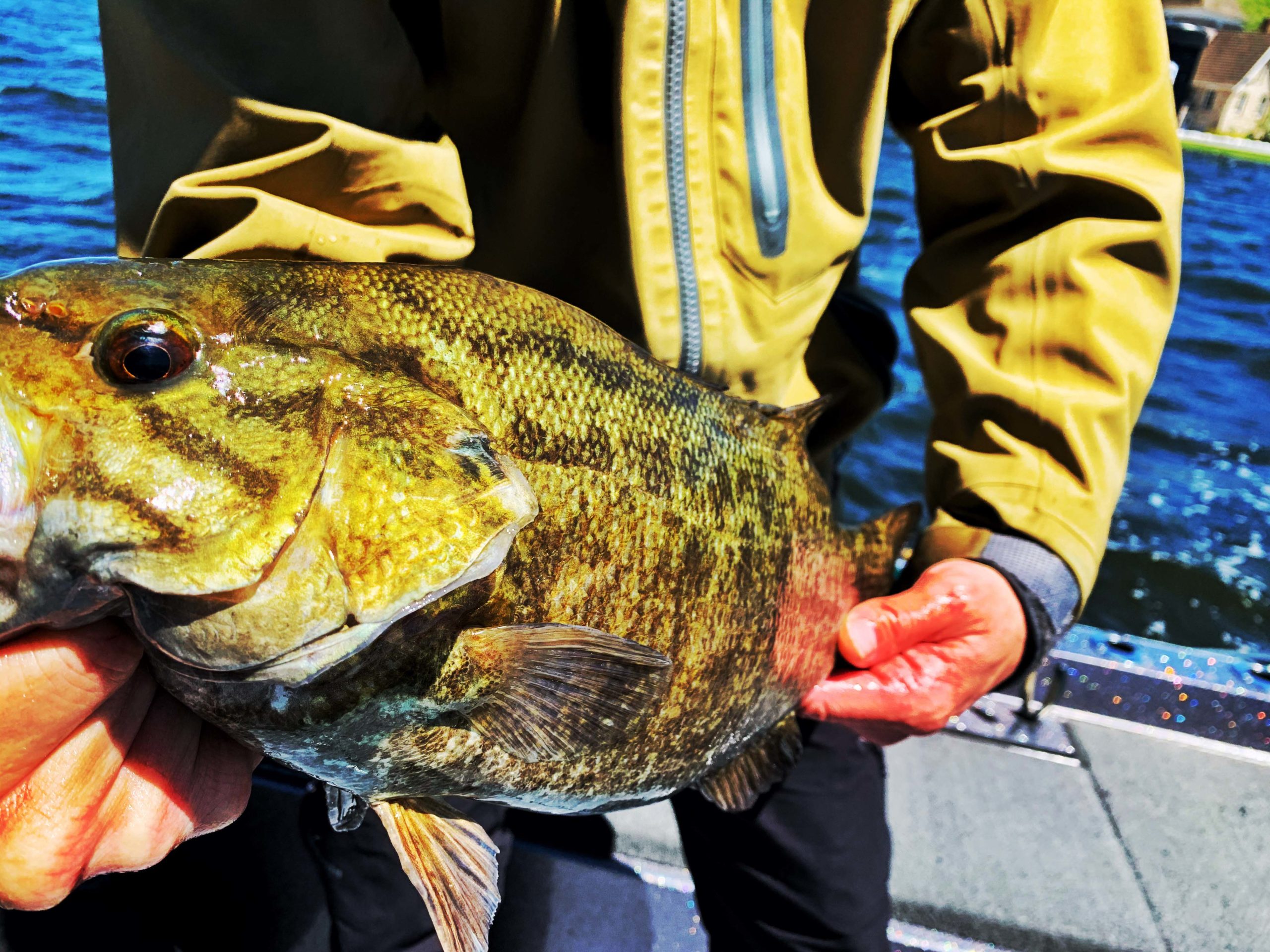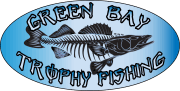 We have over 25 years of fishing guide experience finding walleyes on Green Bay, Sturgeon Bay and the Door County area in any type of weather, rain or shine. We take pride in every trip we guide. We love fishing trips and we love it when our customers can enjoy it too. Nothing achieves this like catching a lot of big fish. If you are planning a trip to our area soon and want a professional fishing guide, check our rates here and get ready to fish!
Book The Adventure of a Lifetime