There's no question that Sturgeon Bay-area of Green Bay is famous for its trophy walleye. During September, October and November, the water temperatures start to cool and walleye have one thing on their mind– the need to feed! Finding trophy caliber walleye in the fall around Sturgeon Bay can be tricky, but with patience and persistence, fall walleye fishing can be just as exciting as at any other time.
Read on to learn more about what goes into a successful walleye fishing trip to Door County, Wisconsin in the fall.
Where Do You Find Walleye In The Fall?
The Bay of Green Bay is a diverse fishery with many topographical areas. Lower Green Bay has sand and mudflats with warmer water filled with shad, perch and schools of baitfish flowing in from the Fox River.
Walleye tend to follow the baitfish into the warmer river as water temperatures start to cool on Green Bay. The west shore of Green Bay has many tributaries like the Oconto, Peshtigo and Menominee rivers, along with many more up to Michigan.
The east shore of Green Bay has many rocky shorelines including the famed Door County peninsula with many reefs and rock outcroppings that hold trophy walleye. Typically in these areas, walleye gravitate toward rocky shorelines as they do in the springtime looking for whatever prey they can find.
How To Catch Trophy Walleye In The Fall?
There are many ways to catch trophy walleye On Green Bay. Jigging, trolling and drifting with live bait are a few of the techniques we use. Jigging with 3/8 – 1/2 ounce hair jigs in 15 to 30 feet of water at sunrise and sunset can produce very nice walleye. 
Trolling with big crankbaits like the Rapala Husky Jerks or Smithwick Rattlin Rogues at night usually puts a lot of big fish in the boat too, especially in the Sturgeon Bay and Door County areas. 
Drifting with live bait, like six-inch sucker minnows along the rocky shorelines during the day with a one to two-foot chop on the water can produce some really big trophy walleye bites as well.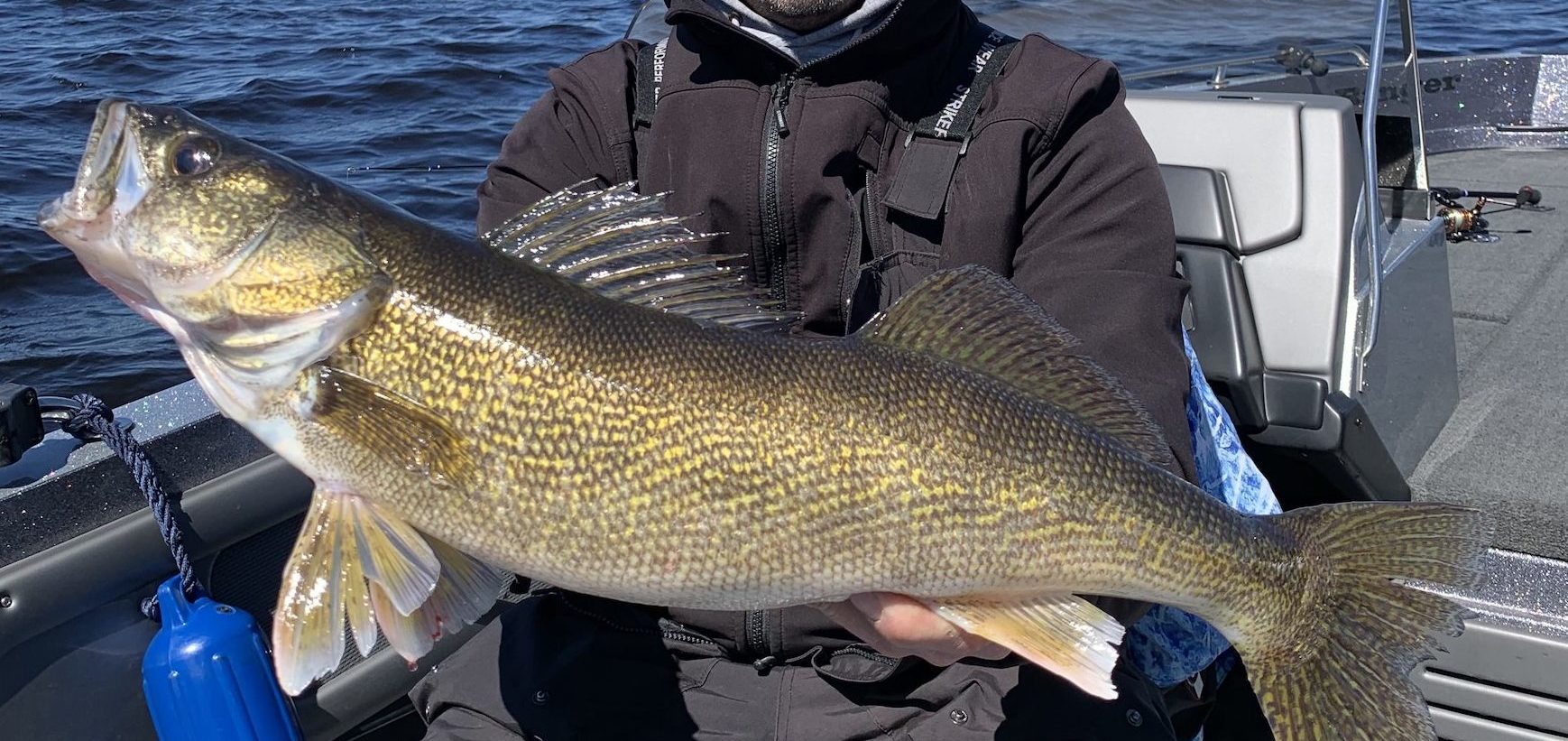 When Should I Head To Sturgeon Bay For Fall Season Fishing?
When it comes to fall walleye fishing in Sturgeon Bay or Door County, Wisconsin, timing is everything.
Fishing around the moon phase can be productive. A couple of days before or after the full moon is when you'll see a lot of action. Water temperatures between 35-40 degrees are the perfect fall conditions for catching a lot of monster walleye.
Green Bay Trophy Fishing Is Your Best Bet To Catch Trophy Walleye In The Fall
With over 25 years of experience guiding fishing charters around Sturgeon Bay and Door County, Wisconsin, Green Bay Trophy Fishing has the equipment, experience and knowledge to locate trophy walleyes year-round. 
If you're interested in fishing in our area this fall, contact us today to book your fishing charter and for more information on how fall walleye fishing in Green Bay is just as good as any other season.