Hiring a Door County smallmouth bass fishing guide is probably the best one way to bring as many of these fighters into the boat. Known throughout the fishing community as fighting well above their weight, you might be led to think you have a bigger fish on the line after hooking into one of these.
If you're skeptical about hiring a Green Bay smallmouth bass fishing guide, this blog is meant to demonstrate how local guide knowledge leads to fishing the best spots, being clued in on the most effective methods and lures that will hook you up with as many smallmouth bass as possible and how to find out the latest biting conditions. If you still want to give it a go without a fishing guide, you'll be better prepared to catch more fish after reading this article.
Where To Catch Green Bay Smallmouth Bass?
Door County is a smallmouth bass fishing paradise with several hotspots to fish. To the west of the town of Sturgeon Bay on Green Bay, you'll find Little Sturgeon Bay, Riley's Bay and Sand Bay. The Flats are north of town on the east side of the shipping channel between Sunset Park and the Stone Quarry. Sawyer Harbor is north of town on the west side of the channel.
Last summer the smallmouth bass fishing was particularly good around Little Harbor, just around the point from the Stone Quarry and various spots between Egg Harbor and Fish Creek. A variety of spots in Eagle Harbor between Peninsula State Park and Ephraim were also very good. These are only some of the great spots to fish in Door County. Try exploring, you may be very surprised by what you find and what you catch.
What Do These Locations Have That Smallmouth Bass On Green Bay Like?
If you're looking to find your own spot to fish, there are a few conditions that smallmouth bass prefer over others.
This usually means you're in two to eight feet of water with a bottom structure consisting of rocks, boulders and some vegetation. This is where smallmouth bass like to hide, catch prey and live. You can also find them around piers, jetties and other manmade structures.
What Is The Policy On Keeping My Catch?
The Door County smallmouth fishery is strong, but with more and more anglers making the trip, practicing catch and release is more important than ever.
Handling the smallies you catch properly is critical as some fishing nets harm your catch. The unique design of the Frabill Pro-Tech Catch and Release net maximizes efforts to protect larger smallmouth bass before I release them.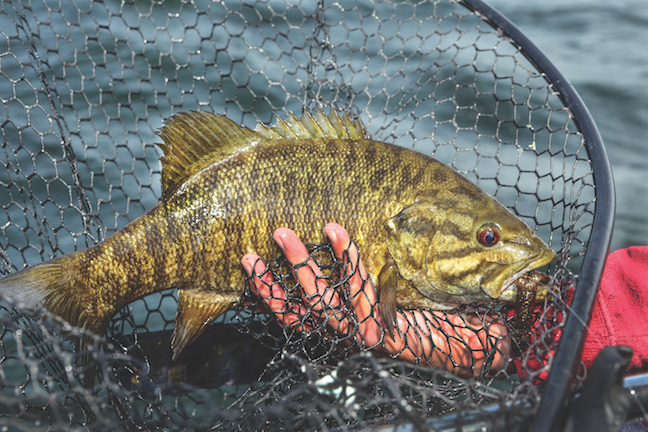 What If I Don't Have A Big Boat Or Any Boat?
The Sturgeon Bay area isn't just for those who have bigger boats that can handle the wind and waves. There are many opportunities for those of you in smaller boats, canoes, kayaks and even wading into the shallows.
Even when it's windy, which is often, you can usually find a sheltered shore that will give you plenty of opportunities to catch fish. For example, if the wind is coming out of the west you could launch at the Sunset Bar and Grill and fish the entire west shore of Riley's Bay. You can also launch at Al's or Goetz's and fish the west shore of Little Sturgeon. Launching at Potawatomi and fishing Sawyer Harbor provides shelter from the wind coming from any direction.
A Source Of Expert Advice For Everything Related To Green Bay Fishing
At Green Bay Trophy Fishing, we use our 25 years of experience to guide anglers from all over the country in catching smallmouth bass as well as other freshwater fish. If you're thinking about heading up to Green Bay to catch smallmouth bass, we know you won't be disappointed with that decision.
For more expert tips or to book a Green Bay smallmouth bass fishing charter, visit our website or contact us today!