As more anglers realize the excellent fishing opportunities on Green Bay young anglers are setting up their own guide companies. Some are well-qualified anglers for such an occupation; others may have a lot to learn. But if you want to treat yourself to a guided fishing trip, there are factors to consider in helping you make the best choice.
Before you even begin to search, know what it is you want to fish for and have some idea of how you want to go about it. On Green Bay, some guides specialize in one or two species of gamefish but know little about the other fish present. You don't want to spend time and money trying to fish for bass with a guide who only targets and knows walleye or musky.
Next, sort through prospective guides to find the one who fits your needs. I once fished all day with a guide in Sturgeon Bay. He was a nice man and knew how to fish for bass, but due to repeated high-pressure fronts in the area, the bass was having nothing of it. The Bay held decently sized schools of walleyes and huge northern pike, but my man had no idea or even an interest in fishing for either species. He was a bass fisherman and that was that. So, we cast rock points, shallow offshore breaks, drop-offs all day with little to show for it. This man wasn't guiding me; he was taking me fishing with him and letting me pay him for the experience.
After determining where you're fishing and what you primarily want to catch, you can decide what type of guide service you want. If you're a species-oriented person and want to concentrate on one, then a guide such as I had in Door County would be a better choice. But if you're out for a day's entertainment and you want any species, you will be better served by finding the guides who fish for "whatever is biting."
Also, if you're planning to bring your kids along, by all means, choose a guide who can get fish hooked up for them. For a kid, catching a dozen small-sized walleye, a few smallmouth bass is far better than catching a cold!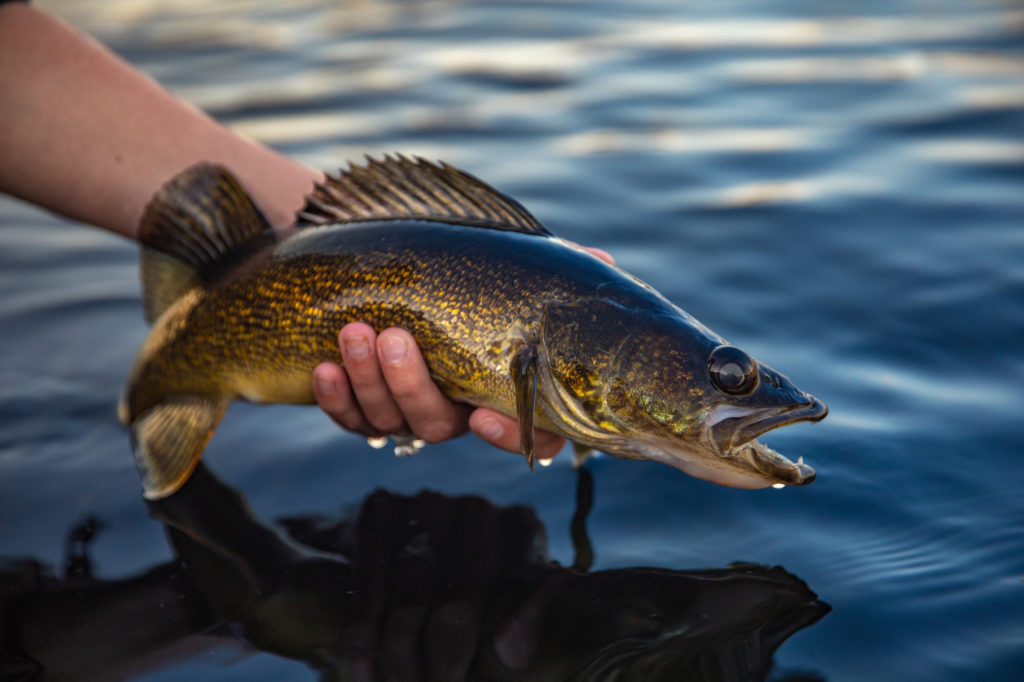 How To Choose A Walleye Fishing Guide In Green Bay
The odds of finding a quality walleye fishing guide in Green Bay are in your favor as you'll find many quality charters there. To make sure you're looking for the right signs you've selected a good fishing guide, we've put together these five tips to ensure you and your group have the time of your lives.
What Do People Say?
Once you arrive in the Green Bay area, ask around. See what locals say about each fishing guide you're considering. A recommendation from a bait shop owner or a resort can be invaluable in finding a quality guide. If you're still stuck after doing all of that, read fishing blogs from the area, check online like facebook guide pages reviews or youtube videos. Also, top-caliber Green Bay fishing guides can be found on most regional TV fishing shows.
If you got the idea to come to hire a Green Bay fishing guide from someone you know, talk to them about the research they put in and how happy they were with the experience they had. They might have decided to go with one guide, but wished they'd gone with another when they saw all of the fish that boat was catching. Nowadays, most guided fishing charters have a healthy presence online or on social media, so you can always confirm what you heard on their website or Instagram.
Dig Into Their Website
This brings us to our next tip nicely. Since the Green Bay, walleye fishing guides you're considering will have a strong online presence, spend time exploring what they have on their site. Watch videos, read blogs, compare pricing and find out if you can tailor your trip to your exact specifications. If you want to fish for walleye, but also northern and smallmouth bass, make sure your guide can accommodate that. You'll also be able to see the boat and gear they use and any additional services (e.g. airport pickup, parking, lodging suggestions, etc.)
A good guiding service should display what to bring on your fishing charter and what you'll need to get beforehand, like a Wisconsin fishing license. You also could find out what you're not allowed to bring onto the boat.
Find Out Who Will Keep The Fish You Catch
Each charter has different policies about how the fish caught are split up. With some charters, the captain or boat owner gets to keep all of the fish you and your group catch. Others have a policy of splitting the catch in half. Some charters are strictly catch-and-release. If you can keep all or some of your catch, make sure you know whether you need to bring a cooler or if the boat has a live well.
Knowing these policies and rules can save you the disappointment of finding out you can't keep what you've caught once your trip is done.
Can Your Fishing Guide Think On The Fly?
When the go-to spots don't yield the action you were expecting, does your guide have the experience and knowledge to think of another spot and still make your fishing charter a success? The ability to do this is sometimes what separates a good guide from a great guide.
Ask a lot of questions of the fishing guide before you commit and you'll get a sense of whether they're in it for the money or if they actually want your trip to be a success. There are only so many days you have to fish and you've shelled out good money for this experience so pick a walleye or Smallmouth bass fishing charter that won't waste your time.
A Service-Minded Approach
It's important not to forget that you'll be spending hours with your walleye fishing guide, even if you only do a half-day, so it's of the utmost importance you pick someone you'll get along with.
When you send an email with your questions, ask him how long he's been working as a guide, what he likes to fish for, if the fishing has been good lately and maybe let him know about some of your fishing experiences. Let them know who you'll be fishing with–kids, your elderly dad or your girlfriend–and how much experience they have.
Ask about the boat set up to get a sense of the level of comfort there is. Will bait, tackle and lures be provided? What electronics does the boat have? If you feel like that particular fishing guide doesn't jibe with you, move on to the next one.
More Advice From The Experts At Green Bay Trophy Fishing
For items to bring, polarized sunglasses, a cap, sunscreen, insect repellant, suitable clothing for inclement weather changes, a camera or smartphone, lunch, snacks and beverages, etc. I'm not going to tell you not to bring alcoholic beverages, if no minors are on board, a cold beer never hurt anyone. However, too much cold beer or any of the hard stuff is not a good idea. Whatever food you bring, bring enough to share with the guide, but a guide shouldn't have any alcohol, ever. If you intend to bring fish home, add a cooler to the list.
Every guide service should be in total compliance with whatever state and governmental requirements apply. Most states require all fishing guides to be licensed. And if he is operating on federal waters, such as the Great Lakes or a navigable waterway, a Coast Guard license is a must. Without this paperwork, your guide, who is carrying passengers for hire and therefore a "commercial operator," cannot obtain a valid personal liability insurance policy, and you are then at risk.
No matter how proficient a Green Bay walleye guide may be at pulling fish out, you may be on unfamiliar waters and a day spent with a local expert fishing guide can be worth it. Not only will you catch more fish, but you will also learn to become a better angler. And, in many cases, you can make a new friend you will look forward to spending a day on the water with for years to come.