If you have gone walleye fishing in the midwest, you've probably heard Wisconsin come up as one of the best states to catch walleye in. The state's many lakes (some say more than Minnesota) are chock-full of walleyes of all sizes–from classic 15-inch eater to 14-pound monsters.
For those who are thinking about making Wisconsin their next fishing destination or for those who know Wisconsin walleye fishing well that just want to try a new location, here are the top walleye fishing lakes in Wisconsin.
What Is The Best Walleye Lake In Wisconsin?
Here are our picks for the best places to hook into walleyes in Wisconsin.
Lake Winnebago
The largest inland lake in Wisconsin is also home to some fantastic walleye fishing. With the Wolf, Fox and the entire Winnebago system as a whole, there is even more ground to cover, but also more opportunities of hooking up with a lot of walleyes. The lake boasts large shoals of walleye, mostly in the 12 to 24-inch range. In late spring/early summer, walleyes move out to hover over deep mudflats and are also found on rock reefs and in shallow, weedy areas near shore.
Green Bay
The Bay of Green Bay and its tributaries are not only a spot to catch a lot of walleye but also to catch big walleye. The bigger the lake, the bigger the fish and with some much in the way of baitfish and other fish on the walleye's menu, it's not hard to see why the fish can get big here. Hungry walleyes move from the Fox, Oconto and Menominee river systems nearby to the bay in spring, which is the best time to hook up with a monster walleye.
Puckaway Lake
Sandwiched between the slender Buffalo Lake and Green Lake, is Puckaway Lake. This lake is very shallow with the 'deep' area no more than six feet and while it lacks the reef and rock structures walleyes usually like, there are plenty of weeds. When summer starts, walleyes are usually around the mouth of the Fox River. Trolling crankbaits behind inline planer boards is a great way to get the walleyes on your line. Fish vary in size to eaters (15-inch minimum, limit of five) to trophies.
Lake Koshkonong
Due to stocking, culling of pests and natural breeding, walleyes are back in Lake Koshkonong. This is another shallow lake that doesn't have the rock and reef structures that walleyes usually like to be around. But still, the lake's weedy areas and spare rock piles are enough to accommodate a bustling walleye population. You can troll cranks or spoons with inline planer boards in the open water or drift with a jig and a minnow around up near the mouth of the rock river.
Lake Geneva
This mammoth lake is one of the state's biggest inland lakes. The lake's size could be why the walleyes tend to be bigger here, some reach more than 10 pounds. The Department of Natural Resources pulled out walleye weighing over 14 pounds in 2015 during a study, with many other walleyes weighing between 12 and 13 pounds caught in the research. With weeded areas at a depth of 30 feet, schools of walleye stay suspended down the water column to avoid boat traffic.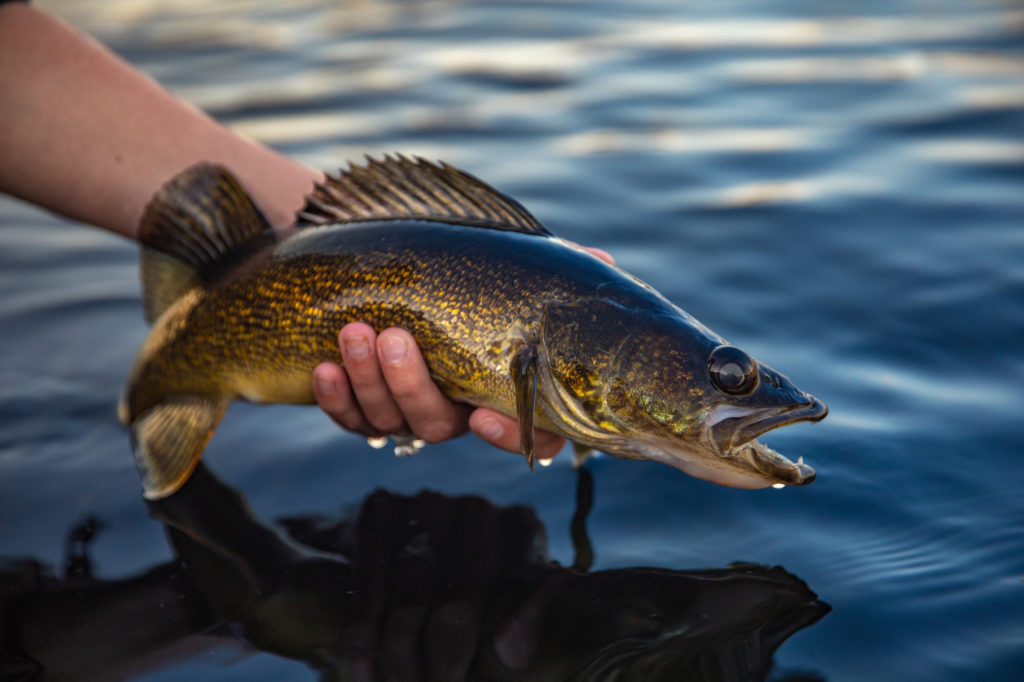 How Do You Fish For Walleyes In Wisconsin?
It depends on the season. In spring, we find the baits that work the best are smaller crankbaits, jigging with live bait, like minnows or worms, or casting into river mouths or shallow weeded areas with smaller lures.
In the summer, fish will move deep as the hot sun rises, so fish shallow in the morning and around sunset, and deeper at midday. Find rocky structures or reefs and try jigging with minnows, using equipment to find fish at depth. Later in the summer or early fall, go shallow in the lowlight hours trolling crankbaits and cast spoons into the weeds in the afternoon.
Green Bay Trophy Fishing: 25 Years Of Experience At Your Service
We are a fully equipped fishing charter company serving Green Bay and Door County. We specialize in guided walleye fishing trips in Wisconsin and can accommodate any size group or party.
Whether you're looking to have your yearly Green Bay fishing trip with an expert guide this year or if you're walleye fishing in Green Bay for the first time, contact us today to book your guided charter on one of Wisconsin's best walleye fishing lakes.